Tomomitsu Taniyama
Profile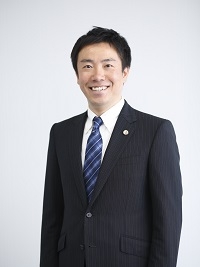 Faculty of Commerce, Doshisha University (BCom)
Admitted to Japanese Bar Association 2007
Message
I have worked in the areas of money problems, house lease, travel accidents, medical accidents, defective housing, consumer damage, troubles between parents and children or husband and wife, inheritance and criminal cases including trials by lay judges and juvenile cases.
Recently, I deal mainly with traffic accidents cases. I have worked aggressively in criminal cases and won a decision of not guilty in two cases.
I also participate in the Committee of Consumer Affairs and Committee for the Establishment of the Right to Counsel and Roles of Attorneys of Japan Federation of Bar Association, and have offered proposals for the improvement of the legislative system.
When individuals are involved in legal issues, they may become bewildered because of not knowing their current situation or what will happen in the next procedural steps, since the situation is very technical.
So I usually try to explain in simple words without using technical terms to relieve the anxiety of clients and offer support to solve their legal troubles.